In winter, almost everyone plans for summer vacation. However, not everyone understands the holiday in the same way. For some, vacation means rest, for others, it means having fun. Sea view villa for rent is a very comfortable holiday alternative that makes you feel at home. Especially the Turkey sea view rental villa options offer you luxury, comfort, and convenience together.
There is a lot to be said about the Fethiye sea view rental villa and the Benefits It Offers. However, it is certain that it offers very serious advantages, especially for those who want to spend their summer holidays in the Fethiye.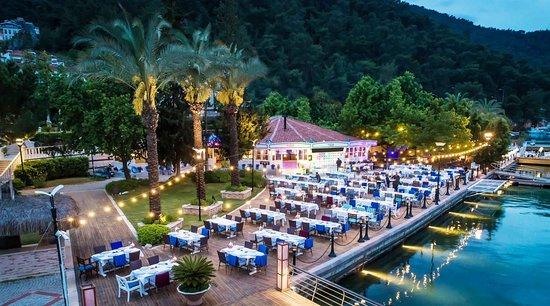 BENEFITS OF A SEA VIEW RENTAL VILLA IN FETHİYE
Almost everyone wants to be close to the sea and reach the sea in a short time during their summer holidays. The best way for this is to rent a villa with a sea view. In this sense, Fethiye rental villas offer different alternatives to holidaymakers. You can wake up to a deep blue sea view every morning by renting villas, especially in Gocek.
Sea view rental villas offer the opportunity to watch the sea whenever you want or to have a good time by walking on the beach. Especially if you are planning a romantic honeymoon, you should definitely choose villas close to the sea. Because most of these villas have jacuzzis in their bedrooms. You can make your honeymoon much more enjoyable and comfortable by renting a villa with both a sea view and a jacuzzi.
Villas close to the sea are ideal for those who want to take a vacation, especially in popular tourist areas. Because the beaches of popular holiday resorts are seriously crowded on weekends and public holidays. This crowd on the beaches causes the sun loungers and the most popular parts of the beach to be taken. However, holidaymakers can choose a rental villa near the sea, choose the places they want in the early morning, swim in the most beautiful places, and sunbathe in the later hours.
In addition to these, rental villas with sea views also provide advantages in terms of transportation. Because these villas are as close to the center as they are to the sea. In this way, vacationers can reach the beach and places such as shopping centers and restaurants in the center in a short time.
WHY SHOULD YOU RENT A SEA-VIEW VILLA IN THE FETHİYE?
Sea View Rental villas are the options that offer the greatest advantages for summer vacation or accommodation in many countries. We can list these advantages as follows;
You can find luxury and comfort together
You can be close to the social and cultural life in the emirates
You can enjoy the sea with to the villas with a sea view.
You can spend time in a completely safe and private area.