Located on Turkey's 'sunshine coast', Fethiye isn't just a gorgeous place to enjoy the quintessential beach holiday because of its idyllic location on the 'sunshine coast'. The reason that Fethiye holidays are so popular is that the beaches here offer such a wide variety of options, from the lively and water sports friendly beaches to the uber quiet and offbeat beaches. We have put together a list of the best beaches in Fethiye so you can plan where you want to lay your towel when you get there.
For stunning scenery, there is nothing better than the beach at Olüdeniz
The Olüdeniz Beach, or Blue Lagoon Beach, as it's also known, is part of a protected reserve and is one of Fethiye's most scenic spots – lush greenery and soaring mountains hug the coastline behind you while sparkling shallow lagoons sparkle as the sun shines in the sky above you. If you look up in the sky, you will notice paragliders soaring above the mountain tops – this is one of the most popular activities in Fethiye. If you want to avoid the crowds, go early in the morning.
The best place to experience a local vibe is Katranci Bay
It is well known that Katranci Bay, part of the Katranci National Park, is a popular summer spot, with regular bus and boat trips running here during the summer months. Katranci Bay is one of the most popular places for locals to gather on weekends for BBQs and picnics. It is also one of the most scenic bays in the entire region of Fethiye, surrounded by cliffs dotted with eucalyptus and sweet gum trees. Restaurants here serve up local favourites like kofte and fresh fish, and there is also a campground where you can spend the night.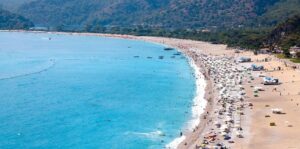 Kumbrunu Beach is one of the best beaches for families
Kumbrunu Beach is the stretch of sand bank which borders Lüdeniz Beach and while you may have to pay to use this beach, it is one of the best places for families to visit when they are in the area. You can spend a whole day here trying out some snorkeling, and you can take a pedalo or a kayak into the shallow waters where you can swim. In addition to the lifeguards on duty, there are often restaurants and bars where you can grab a bite to eat as well.
The best beach for serenity is Kabak Beach (Gemile Beach).
It's a steep 30-minute walk down to Kabak Beach (you can only access it on foot), so arrive before the sun gets too hot. However, the journey certainly pays off when you get to revel in the complete unspoilt feel of this sandy bay favoured by locals. You'll find a couple of no-frills beach bars but it's best to come with plenty of supplies and perhaps a parasol. This is Turkey at its most serene.
Best for watersports: Çalış Beach
While some might say that -alas Beach is one of the most touristy beaches in Fethiye, this narrow, 4-kilometer bay is a wonderful all-rounder with its abundance of amenities and watersports facilities, from kite surfing and windsurfing to sailing. It lies a few miles north of Fethiye town, and you can enjoy watching the sunset from one of the lively bars on the beach as you watch the sun set over the horizon. In addition to being a popular beach featured in the James Bond film Skyfall, you are also able to say that you have been to one that featured in the film.