Fethiye district of Muğla province hosts thousands of tourists every year with its natural beauties and historical buildings as well as unique beaches. Fethiye, which is one of the popular holiday centers of Turkey, has beautiful blue flag beaches as well as coves with impressive beauty.
Oludeniz Beach
Ölüdeniz Beach, which is among the important destinations of Fethiye, is approximately 15 kilometers from the town center. Transportation to Ölüdeniz can be easily done by private vehicle, taxi or Ölüdeniz minibus departing from the district center.
Oludeniz, which is preferred for its impressive beaches, clear sea and natural beauties, has become the center of attraction of the region with tourists from many parts of the world. Oludeniz Beach, where many water sports can be done, serves in a facility where you can spend time all day long with its fine-grained sands.
On the beach, where there are many businesses around, you can also meet your needs such as shower, toilet and dressing cabin; You can benefit from the buffets and restaurants around.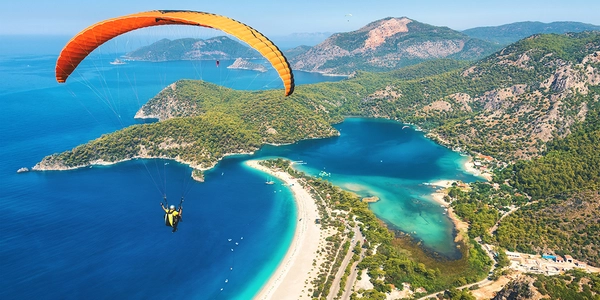 Calis Beach
Calis Beach, which is among the popular beaches of Fethiye, is very close to the town center. Access to the beach can be done on foot.
This beach, which consists of fine stones mixed with sand, is usually crowded due to its location. The sea, where the sea is quite calm in the early hours of the morning, takes on a slightly wavy structure with the effect of the wind in the afternoon. For this reason, Calis Beach is preferred more often by families with children and those who do not know how to swim well in the morning hours.
You can take long walks on the beach, which is approximately 2 kilometers long, and you can shop at the kiosks where you can buy products such as milk corn and iced almonds on the beach.
There are also many businesses that provide services for your food and beverage needs around the beach, where there are facilities such as showers, dressing cabins and toilets operated by the municipality.
Belcekiz Beach
Belcekiz Beach, located in Ölüdeniz, a district of Fethiye, is approximately 21 kilometers from the town center. In addition to various water sports, transportation to the beach, where you can clearly observe parachuting, can be done by private car, taxi or Ölüdeniz minibus.
Belcekiz Beach, which has a more wavy structure compared to the stagnant seas in the region, is not preferred by families with children due to its deep sea. In addition, the beach, which has a very pleasant beach, is covered with golden sand.
Turunc Pınarı Bay
This hidden paradise, which includes Yazz Collective, makes you leave satisfied with its clean sea and beach. In this bay, which does not have a very deep sea, the sea remains calm even on the stormiest day. It can only be reached by boat.